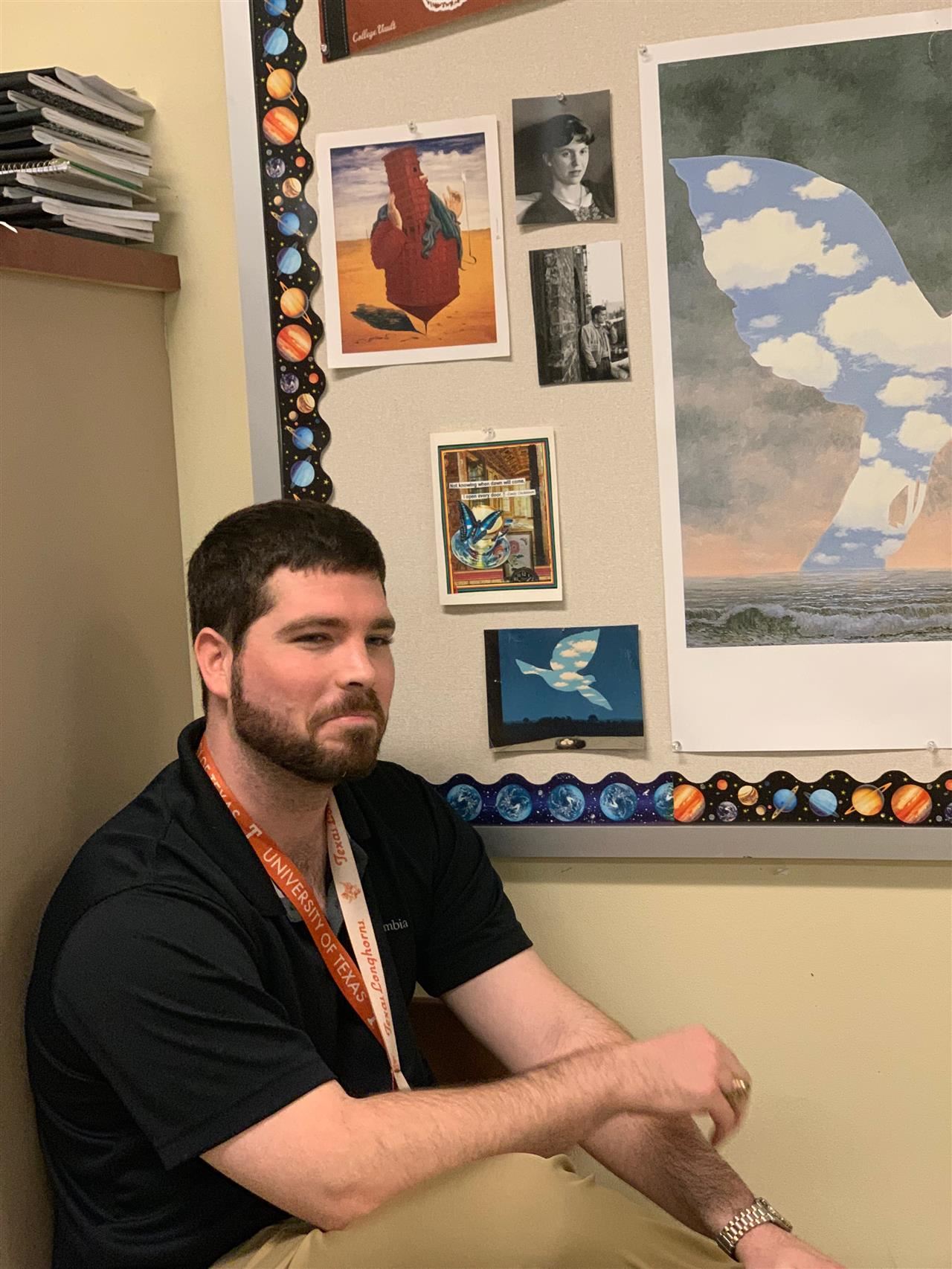 Phone:
Email:
Degrees and Certifications:
BA English (UT Austin) Standard ELAR 7-12 Supplemental ESL
Mr.

Grayson Howard

This is my sixth year teaching and I love what I get to do more and more as time goes on. I grew up in San Antonio after being a Navy brat for a while, went to Huebner Elementary, Eisenhower MS, and Winston Churchill HS. I'm coming from Judson ISD but I'm very excited to be at Claudia Taylor Johnson HS for the first time. I have a Bachelor of Arts in English from the University of Texas at Austin with a minor in Sociology. I teach two classes of AP Language and Composition but the majority of my day is spent with English 4. I have taught both of my current offerings in addition to AP Literature and Composition, Communication Applications, Creative Writing as well as Practical Writing. I have a standard certification for ELAR 7-12 but also hold a supplemental certification for teaching English as a Second Language. I try hard to be here not only to help students improve in their reading, writing and critical thinking skills but also to help with anything else when it comes to college, careers or all of the above in addition to social or emotional needs. I want my classroom to be a place where everyone feels respected, valued and appreciated. Never hesitate to email me if you need anything.
Syllabus - English IV - Syllabus AP Language and Composition

Regular Bell Schedule (Monday, Tuesday, Wednesday, Friday)

1- 8:50-9:45 _A347 (AP Language and Composition)

2- 9:50-10:45 _Conference

3- 10:50-11:40 _A359 (AP Language and Composition)

4- 1:45-12:35 _A345 (English IV)

5- 12:40-1:30 _A345 (English IV)

6- 1:35-2:25 Lunch

7- 2:30-3:20 _A345 (English IV)

8- 3:25-4:15 _A345 (English IV)

*

FLEX-Thursday

1- 8:50-9:40 _A347 (AP Language and Composition)

2- 9:45-10:30 _Conference

FLEX- 10:35-11:15

3- 11:20-12:05 _A359 (AP Language and Composition)

4- 12:10-12:55 _A345 (English IV)

5- 1:00-1:45 _A345 (English IV)

6- 1:50-2:35 Lunch

7- 2:40-3:25 _A345 (English IV)

8- 3:30-4:15 _A345 (English IV)

Tutoring= Monday before or after school. Otherwise you will need to speak to me in person, or send me an email to set up a good time for both of us. I have to work around helping out with the baseball program as well. Thanks.

*