Return to Headlines
Bike Rodeo for all y'all.
The Regency Place Elementary School Bike Rodeo is exciting.
You can hear groups of students cheering on their classmates. You can see MacArthur High School baseball players offering high fives and fist bumps to Regency Place students. You can also feel the energy as students' fears turn to confidence as they accomplish feats they didn't know they could.
One more thing you'll notice: first grader Giovanni. He's in the Special Education program. But thanks to North East ISD's Adaptive PE program, he was also able to compete in the Bike Rodeo. All his Alternative Learning Environment (ALE) classmates got to ride a bike today and be just like every other student.
"Bike Rodeo is such a big event for elementary students, but sometimes our Special Education students can't participate because of their physical limitations," said NEISD Special Education Program Coordinator Christine Rostedt. "But our bikes provide them the opportunity to participate in something huge and be with their general ed peers where all kids want to be."
Thanks to a grant, NEISD has 35 special bikes for Adaptive PE students, equipped with special seats, seatbelts, and an extra set of handlebars in case they need a little help.
Giovanni's favorite feature, though, was the horn on his handlebars shaped like a tiger.
He squeaked that thing all over the obstacle course. But more importantly, he finished the obstacle course mainly on his own.
"What makes this so special to me personally is that for some of them, this is the first time they have been on a bike," said Regency Place Special Education Teacher Tasia Puente. "So, it means a lot to me and their parents and especially themselves because they are very proud of themselves and what they are able to do here."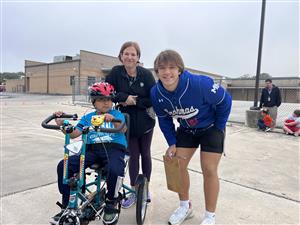 Adaptive PE is providing new opportunities and building confidence in our students #theNEISDway