Return to Headlines
Camelot prepares for a $50,167 musical playground courtesy of The Charity Ball Association
Musical melodies will drift through the Camelot Elementary School community soon after musical instruments twice the size of the students are installed in the playground, courtesy of a grant from the Charity Ball Association of San Antonio.
San Antonio's Charity Ball Association awarded the North East Educational Foundation (NEEF) a $50,167 grant to purchase and install five over-sized, colorful instruments for use by the school's 600 students and the community.
"This wonderful gift from the Charity Ball Association is a beautiful addition to this campus and this neighborhood," said Camelot Principal Wilma Payne. "The musical playground will be installed just as Camelot celebrates its 50th anniversary serving the children of this community."
The Charity Ball Association presented the check to NEEF September 10th at the San Antonio Country Club during a banquet. The Charity Ball Association awarded $1 million worth of grants to 16 charities that evening.
The instruments will be located in the SPARK section of the campus. SPARK – or school park - is a district collaboration with the City of San Antonio and San Antonio Sports. It is open to the public after school hours.
The musical playground will consist of sound sculptures arranged in a semi-circle. The school's four- to 11-year olds will play on contrabass chimes, an imbarimba, a swirl, a Pegasus and tuned drums.
"The music teacher will create an activities guide that families can perform with their children," Payne said. "The afterschool program also will have access to the musical playground."
The musical instruments will help the school's children recognize high/low pitch, rhythm, melody, interaction and improvisation.
Since 1954, the Charity Ball Association's mission is to enhance the quality of life for children in Bexar County. Each year, association members raise funds, evaluate proposals from the community and fund grant proposals that focus on children, protecting their welfare and preparing them for the future.
NEEF raises funds to expand the educational opportunities for the children of North East ISD. This year, NEEF will award a record $363,000 to district educators who submitted proposals designed to enhance a child's classroom and learning experience.
Receiving the grant check from The Charity Ball Association
are NEEF Chairman Randy Bristow, Camelot Principal Wilma
Payne and NEEF Executive Director Amy Lane.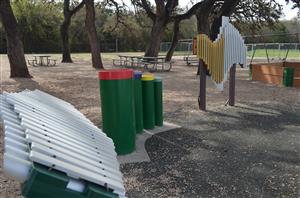 These over-sized musical instruments are examples of what
will be installed at Camelot Elementary School.