Return to Headlines
Life lessons in the Fox Run gym
"Being a positive role model – that's why I'm here. I feel called to be here at Fox Run."
PE Coach Jason Sellers has gained more than he ever expected out of nearly 20 years at Fox Run Elementary School. The relationships with his students and colleagues drive him to be his best every day. But the sense of community and belonging helped him realize his job was really his calling.
The Fox Trot 5K is the perfect example of community and purpose colliding. This event originated from a grant from the San Antonio Spurs' Silver & Black Give Back Team Up Challenge. This three-year project has become a tradition, now eight years running, with a food drive, vendors and more than 200 students, parents and community members in attendance.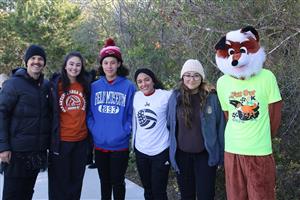 "The community just loves it and I think it's important for families to get involved in their schools," said Sellers. "The more we get them on campus, it grows our school, and they have a better understanding of what we do day in and day out."
The Fox Trot 5K reunited Sellers with former students now at Wood or Harris Middle School and Madison High School. That sense of community and reminder of the power of relationships keep him rooted at Fox Run. Students in his first kindergarten class are now seniors at Madison this year. It means a lot when students still remember those life lessons learned in the gym with Coach Sellers.
"PE is all about figuring out what to do when things don't go the way you wanted it to. Of course, we encourage them to be active, eat healthy and get plenty of sleep. I always tell them, 'I want you to have a healthy body and a healthy mind.' We learn how to work with others and how to win and how to lose. To see where they started with me and where they are now so many years later keeps me coming back. I find so much enjoyment in my job and I'm getting paid to do something I love."
Thank you, Coach Sellers, for all of the life lessons learned in the gym #theNEISDway.