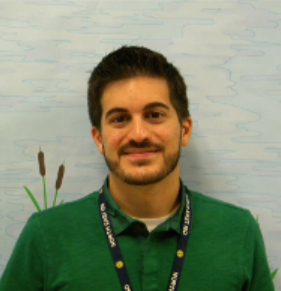 Phone: 210 407-4400
Email:
Degrees and Certifications:
I graduated from the University of Texas at San Antonio College of Education and Human Development in 2012 with a bachelor's degree in Interdisciplinary Studies. I have a Texas teacher certification in EC-6 and ESL.
Mr.

Lazaga

I am Nicholas Lazaga. I am 33 years old. I am a Third Grade Teacher Math and Science Teacher at Jackson-Keller Elementary School.

I graduated from Ronald Reagan High School in NEISD. I graduated from UTSA in 2012. I am married to love of my life! I am a musician. I like to play the drums. I love Disney!

I am extremely passionate about education. I truly believe that these students are each capable of great things. It is my mission to instill a love for learning in these students. I strive every day to teach them that if they believe something with all their heart and work for it, they will achieve it!

We must always keep making forward and do as dreamers do.
Class Schedule
Mr. Lazaga's Class Schedule


7:45 – 8:00 Homeroom / Morning Announcements

8:00 – 8:15 Rotation 1: Math (Spiral Review)

8:15 – 8:30 Rotation 1: Math (Number Talk / Problem of the day)

8:30 – 8:50 Rotation 1: Math (Whole Group Lesson)

8:50 – 9:30 Rotation 1: Math (Small Group / Stations)

9:30 – 10:00 Rotation 1: Science

10:00 – 10:15 Rotation 2: Math (Spiral Review)

10:15 – 10:30 Rotation 2: Math (Number Talk / Problem of the day)

10:30 – 10:50 Rotation 2: Math (Whole Group Lesson)

10:50 – 11:35 Rotation 2: Math (Small Group / Stations)

11:41 – 12:11 Lunch

12:15 – 1:10 Specials (PE, Music, or Computer Lab)

1:15 – 1:45 Rotation 2: Science

1:50 – 2:10 Recess

2:15 – 3:00 Tier 2 Interventions

3:00 – 3:15 Homeroom / Dismissal Procedures