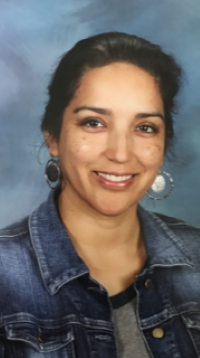 Phone: 210 407 8400
Email:
Degrees and Certifications:
Bachelor of Education, Early childhood. Master's degree in Bilingual Education at UTSA
Ms.

Georgina Sanchez

Bienvenidos!!! Mi nombre es Georgina Sanchez. Es un honor poder trabajar con ustedes y sus niños(as), desarrollando experiencias enriquecedoras y divertidas. Es importante trabajar juntos para lograr un año exitoso. Yo crecí en Costa Rica y mi primer idioma es el Español, obtuve un bachillerato en Educación Temprana en Costa Rica, donde enseñé Preescolar. Además, enseñé en Florida segundo grado doble sendero. También hice una maestría en Educación Bilingüe en la Universidad de Texas en San Antonio. Estoy certificada para enseñar Preescolar hasta sexto grado con un suplemento bilingüe. Este es mi doceavo año en la escuela Walzem, pero mi decimo año enseñando como maestra y me encanta estar rodeada de niños(as).

Welcome!!! My name is Georgina Sanchez. I am looking forward to working with you and your children in an enriched environment, a bilingual pre-kinder full of adventures. We will work together to make this a successful year! I was raised in Costa Rica and my first language is Spanish. I have a bachelor's degree in Early Childhood Education and a master's degree in Bilingual Education. I am certified to teach EC-6 Bilingual. I taught pre-kinder in Costa Rica and second grade dual language in Florida. This is my twelfth year at Walzem, but this is my tenth year as a teacher, and I have loved being around the children here.
Class Schedule
Schedule/Horario

7:30 Announcements/Anuncios

7:40 Morning Message/Mensaje

7:50 Breakfast/Desayuno

8:15 SEL/Socio-Emocional

8:35 Work Stations/Areas de trabajo

9:35 Recess/Recreo

9:50 Math/matematicas

10:05 Work Stations/Areas de trabajo

10:50 Specials/Especiales

11:45 Literacy Circle/Circulo de Literatura

12:00 Science/Social Studies/ ciencias y estudios sociales

12:15 Transitions/Transiciones

12:23 Lunch/Almuerzo

12:53 Recess/Recreo

1:15 Rest time/Tiempo de descanso

2:15 Closing Circle/Story time/Tiempo de lectura

2:40 Dismissal/Salida