Return to Headlines
Ridgeview Super Teachers Provide a Super Lesson
North East ISD teachers go all out for their students. Our teachers love teaching and constantly work on making their lessons innovative and engaging. That's on full display in the third-grade hallway and classrooms at Ridgeview Elementary School.
That's where third-grade teachers Samantha Moran, Yentl Castaneda, Tabitha Lopez and Elizabeth Ruiz spent countless hours cutting out bricks and covering walls and tables with red and green paper. As students enter the third-grade hallway, they are instantly transported to the Mushroom Kingdom in the Super Mario Bros. World. Brightly colored balloons and gold stars guide their path. Mario, Luigi, Toad and Princess Peach are around every corner. Students are wearing iconic Mario and Luigi hats.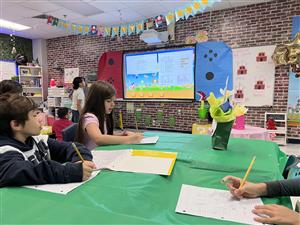 "It's worth it for our kids," said Moran. "We have done several different themed weeks this school year--from a haunted house, to Superbowl, a winter wonderland and even Starbucks. Every year, the students find these themed weeks memorable, which makes them eager to come to school and show what they have learned."
In these classrooms, students are excited to learn math. Their hands shoot up at every question. Students solve problems together in teams, and every correct answer reveals a fun Mario-themed sound and video. It's like playing a math-themed Mario video game. It's meeting the students where they are. The Super Mario Bros. Movie is one of the biggest movies out right now, and Ridgeview third graders get to learn in that world thanks to the dedication of their teachers.
"We also want to give a special thank you to our Ridgeview families," said Moran. "They donate items that make our fundraisers successful. And that money goes back into the classroom, which has helped us go all out with decorations."
There's one more important detail to know. The logo on the teachers' custom Mario-themed shirts reads "Super Teacher," and we couldn't agree more.
We want to thank all the NEISD teachers who strive to make lifelong learning innovative and engaging #theNEISDway