Return to Headlines
There's lots to look at in Shawna Schmidt's art class at Encino Park Elementary.
Pictures of Leonardo Da Vinci's Mona Lisa.
Oversized paper flowers framing a bulletin board hand-cut by Schmidt.
You'll also notice a disco ball on the ceiling over her desk because "It's always a party in art class."
And if you look closely, you will also see a little bulletin board with the phrase, "Art is an experience, not an object."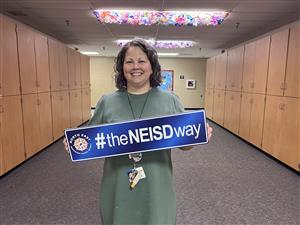 In fact, it was her experiences at Encino Park years ago that developed into the art Schmidt is producing now. She was a stay-at-home mom. When her son started attending Encino Park, she started volunteering.
"We live right behind the school, so I was here. I knew the principal. I knew the teachers, "said Schmidt. "Teaching was always in the back of my mind. So, when the position became available, it was an easy decision."
She applied on a Wednesday, and by that next Monday, she was hired and setting up her first classroom. That parent volunteer turned into a passionate teacher.
"It's been fantastic. The administration here is so supportive. North East is one of the best districts. We are a family at this school. Now, I am on the other side, and I see how much parent involvement we have. It's so important. And these parents show up…it's amazing."
Since Schmidt lives in the neighborhood, her student and parent interactions don't end at dismissal. Schmidt loves seeing her students at H-E-B or when they swing by trick-or-treating at Halloween. It's not a job; it's her community. And she's sharing her passion with those most important to her.
"I have loved art all my life. It is an amazing tool for kids. It expresses their creativity. It gives them an outlet," said Schmidt. "I was going to be a famous artist. I was going to own a loft, and my gallery was going to be on the bottom floor. But I switched to wanting to inspire that passion in other people, and now I get to do that every day."
And that dream gallery? It's happening in a way. On the way to Schmidt's classroom, there are several lights covered with nearly 700 brightly colored, lightly melted pieces of plastic individually decorated by every member of Encino Park's staff and every student from last year.
Do you want to inspire a passion in others? NEISD is hiring.
View available NEISD careers to follow your passion.