Return to Headlines
Reagan Marching Band to perform in 2019 Macy's Thanksgiving Day Parade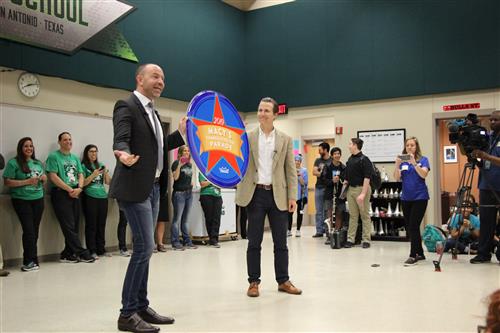 Today, the Reagan High School Marching Band, was selected to perform in the 2019 Macy's Thanksgiving Day Parade®, representing the state of Texas. This will mark the first Parade appearance by the band. Reagan High School will join the Parade to the call of "Let's Have a Parade," the iconic phrase that has signaled the start of every Macy's Thanksgiving Day Parade since 1924.
Each year, the Macy's Parade Band Committee looks for bands that have the stage presence, musical and marching abilities to captivate more than 3.5 million live spectators and more than 50 million viewers. Reagan Marching Band was selected from more than 100 applicants as one of nine selected bands to march in the 93rd edition of the annual holiday spectacle. The band will join the revelry along with other iconic Macy's staples: floats, giant character balloons, clowns and superstar performers galore on Thanksgiving Day 2019, helping to create an unforgettable experience for millions.
"Very few high school band programs in America rival the level of excellence and artistry achieved by the students of the Ronald Reagan High School Marching Band," said Wesley Whatley, Macy's Thanksgiving Day Parade Creative Producer. "These talented students have amassed a long list of accolades and we are proud to offer another jewel in their crown when they represent Texas and perform for millions in the 2019 Macy's Parade!"
"It is an absolute honor to have been selected to perform in the 2019 Macy's Thanksgiving Day Parade!," said Dan Morrison, director of bands. "As someone who has marched in the Parade myself, I know firsthand what an incredible experience this will be for the students of the Reagan Band!"
Reagan will spend the next 18 months planning for their Parade appearance. Rehearsals and creative fundraising events not only bring the school and the community closer but also prepare the students for the march of a lifetime.
The big announcement concluded in a shower of confetti as students, staff and supporters shouted, "Let's Have a Parade!"
For more than ninety years, Macy's Thanksgiving Day Parade has given thanks to what Macy's values most –- its loyal fans. More than 5,000 Macy's employees and dedicated volunteers work tirelessly to create a spectacular event that entertains the cheerful crowds and provides joy to millions at home watching on Thanksgiving Day. Stretching down a more than two-mile-long route in New York City, the spectacle is alive with gleaming color, music and smiles.
Pictured Above: Wesley Whatley hands Band Director Dan Morrison (right) the official seal of the parade emblazoned on a drum head.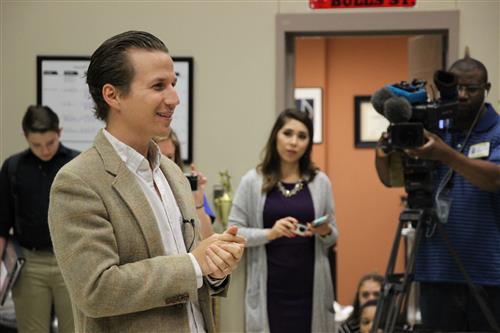 Dan Morrison proudly accepts the invitation to perform at the big parade.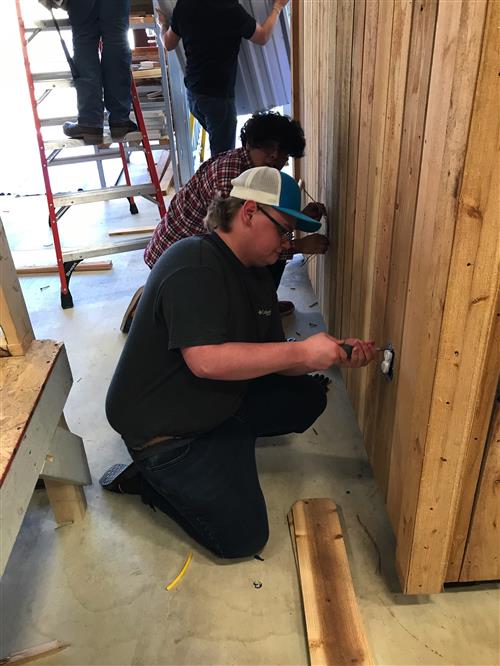 The Reagan Band Hall is filled with confetti after the announcement.