Return to Headlines
"I feel like every school should be exactly like ACE."
More than 50 Academy of Creative Education (ACE) students walked the stage and received their diplomas at a ceremony at MacArthur Church of Christ on Thursday, June 2.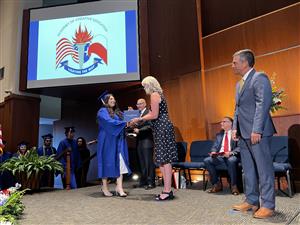 North East ISD created ACE to give students at risk of dropping out a non-traditional way to learn and graduate. It's now a nationally-recognized program celebrating 30 years of new opportunities for students. ACE graduates must complete all the same requirements of any other NEISD high school in order to graduate. They must also do community service.
ACE graduates Erin Rabinal and Evelyn Moya hosted the graduation ceremony and both expressed how ACE helped get them back on track after trying times in their lives.
"I was struggling a lot during and after the pandemic. I was not good at doing online school. Then, when we did return, I could barely handle sitting in class," said Rabinal. "So, my Assistant Principal at Johnson suggested ACE. It made it a lot easier for me. I felt a lot safer. The teachers treated me like I was an adult, and they would talk to me one-on-one."
Moya's story isn't too different. She had attendance issues, and that was putting her behind. So her friend, who graduated from ACE last December, suggested Moya try it.
"ACE made me feel very comfortable. I wanted to graduate. I wanted to be at ACE. I loved how I felt being at school. So, I didn't feel like I wanted to miss any days," said Moya. "I am excited I made it here because I didn't think I would be graduating."
Both Moya and Rabinal didn't think graduating high school would be a real option, let alone doing it on time. But ACE met their needs and gave them hope.
During his speech and charge to the graduates, NEISD Superintendent of Schools Dr. Sean Maika said, "You didn't come this far to only come this far."
Moya and Rabinal are proof of that.
They are excited about the next steps in their educational journeys.
Rabinal plans to attend Northeast Lakeview College and focus on fashion design.
Moya plans to attend St. Phillip's College and major in medical stenography.