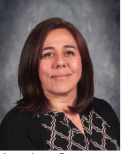 Phone:
Email:
Degrees and Certifications:
Mrs.

Jessica Cortez

Hello!

I'm very excited to join the East Terrell Hills team as a math targeted support teacher this school year 2022-2023. In this capacity, I'm able to collaborate with 3rd, 4th, and 5th grade math teachers to support students' academic growth by working in small groups targeting areas of reinforcement. I received my Master's in Education from Trinity University and served the SAISD community as a 2nd grade Bilingual Teacher for 4 yrs.

I was born in Mexico City, so Spanish is my native language. I lived in Laredo, TX for over 20 years and moved to San Antonio in 2011. My two sons graduated from Johnson High School and, as a parent, I can tell you that NEISD is a high-achieving district with well-qualified professionals who are invested in your child's education.

The best way to reach me is via email at jcorte10@neisd.net

♦♦♦♦♦♦♦♦♦♦♦♦♦♦♦♦♦♦♦♦♦♦♦♦♦♦♦♦♦♦♦♦♦♦♦♦♦♦♦♦♦♦♦♦♦♦♦♦♦♦♦♦♦♦♦♦♦♦♦♦♦♦♦♦♦♦♦♦♦♦♦♦♦♦♦♦♦♦♦♦♦♦♦♦♦♦♦♦♦♦♦♦♦♦♦♦♦♦♦♦♦♦♦♦♦♦♦♦♦♦♦♦♦♦♦♦

Hola!

Estoy muy emocionada de formar parte del equipo de East Terrell Hills como maestra de apoyo estratégico de matemáticas este año escolar 2022-2023. Esta capacidad me permite colaborar con los maestros de matemáticas de 3ro, 4to, y 5to grado para apoyar el desarrollo académico de los estudiantes por medio de intervenciones en grupos pequeños que se enfocan en áreas de refuerzo. Recibi mi maestria de la Universidad de Trinity y servi a la comunidad de SAISD como maestra bilingüe de 2nd grado por cuatro años.

Soy originaria de la ciudad de Mexico, por lo tanto, Español es mi primer idioma. Radique en Laredo, TX por más de 20 años y me mude a San Antonio en el 2011. Mis dos hijos graduaron de Johnson High School y como padre de familia les puedo decir que NEISD es un distrito de alto rendimiento académico con profesionales altamente calificados y comprometidos en la educación de los estudiantes.

La mejor manera de contactarme es por correo electrónico a jcorte10@neisd.net.